Multi-tube heat exchangers, frames, accessories, and process systems

Our sanitary corrugated floating multi-tube heat exchanger product line has multiple product tubes within a common media tube.
Ultimate solution for thin fluid processing
Large heat transfer area in a smaller space
Tube bundle floats independently of the shell
Tube bundle can be easily removed for inspection and maintenance
MultiSafe
When product integrity is an absolute necessity, Thermaline offers a Sanitary corrugated floating multi-tube heat exchanger with additional safety features. The product tube face is separated from the media tube face, eliminating the possibility of product cross contamination. Includes all of the benefits of a Multifloat plus the following:
Media and product leaks are vented to atmosphere

High performance plastic baffles extend tube life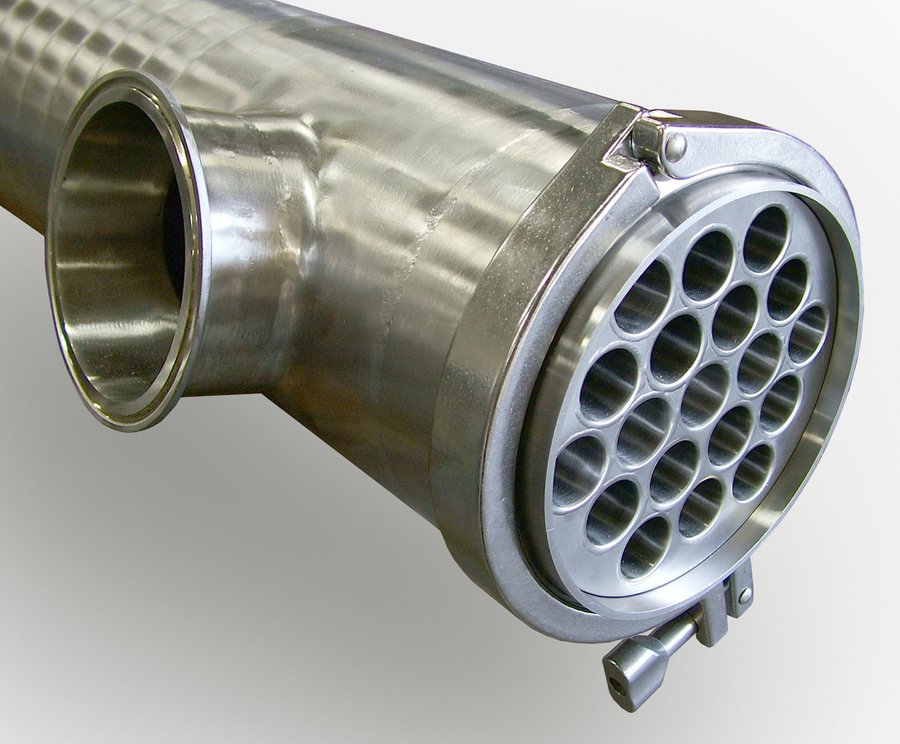 Corrugation
The heat exchanger surface is shaped into turbulence-inducing, alternating parallel grooves and ridges to increase heat transfer efficiency. Inducing turbulent flow results in less total surface area required to achieve the desired thermal results. Turbulent flow promotes thorough mixing of the product and even thermal disbursement without compromising product integrity.
Sanitary
Thermaline's Floating Series tubular heat exchangers meet or exceed 3-A tubular heat exchanger design requirements.

Safe
The strategically-positioned elastomers eliminate the possibility of product intermixing. If a leak were to develop from an elastomer failure, the fluid would be vented to the atmosphere so it can be quickly identified and repaired. The Floating Series eliminates blind, internally-positioned elastomers that can lead to cross contamination.
Specifications

Tube assembly count per frame
1 to 20
Inner tube diameter
0.5" to 1"
Inner tube max. pressure
515 to 830 PSI
Outer tube diameter
2.5" to 6"
Outer tube max. pressure
125 to 250 PSI
Elastomers
NBR, EPDM, Viton
Available tube lengths
10', 20', 30'
Tube Materials
304SS, 316SS, AL6XN, others on request