Eliminate down-time and hassle with the push of a button

Thermaline's EZ- and TT- series automated frames take a simplistic approach to automated frame closures by utilizing the smooth yet powerful action of hydraulic cylinders in lieu of cumbersome, maintenance-prone chain drives and PLCs. The EZ- and TT-series frames are self-contained, easy to use, and safe guard your plate pack from over-compression. 

3-A Compliant Sanitary frames – All frames are built to 3-A sanitary standards 11-09. 
Construction – Frames are built standard with 304 SS clad and options available for 316 SS, AL6XN or Titanium product contact surfaces.
Finish – Our automated frames feature a #4 brushed polish and product contact surfaces polished to 32Ra
Nozzles – Both the stationary and movable head fluid connections are on the sides of the heat exchanger allowing for a symmetrical installation and ease of opening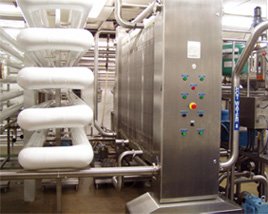 Our automated frames are designed to improve any plate heat exchanger and are built to work with your existing process systems.
An EZ choice to make
The EZ-frame is sold independently to accommodate your existing plate pack. Thermaline can easily adapt semi- or fully-automated frames to fit the plate that you are currently using. The hydraulic system can house multiple plate packs.

Save time and money through automation
Needs nothing more than a power source
Use your existing plate pack(s)
Rugged, simple control surface
Tag Team for max control
Does your process need attention during run time to clear fouling or plugging? Is the process so critical a plate failure will bring your entire plant to its knees? Do you have two different applications that require automated frame closures? 
TT-series frames open the door to new opportunities. Two independent processes share the same frame, drive components, and structure. With considerable space and money savings over two independent frames, these frames are the perfect fit for plants with multiple processes.
Adaptable
The EZ and TT frames are available to fit most popular models of plates, allowing you to use your existing plate pack and reap the benefits of reduced labor and downtime.

Lock Solid
Thermaline automated frames utilize a patent pending twist-lock system to secure the heat exchanger in the closed position. The force generated internally from operating the heat exchanger is now transmitted through the Lock-Solid™ system, mechanically holding the unit closed.
Specifications

Frame material
304SS clad (additional options available)
Number of independent frames
1 (EZ-series); 2 (TT-series)
Plate area
Varies; built to specifications
Plate capacity (per frame)
250-750 (varies with size)
Max. flow rate
150-1000 GPM (varies with size)
Max. operating pressure
100 PSI