Designed for the most demanding industrial applications
Contamination-prevention
Gaskets are designed with vent holes between port and boundary gasket. This ensures that in case of a leak occurring due to gasket failure, the fluids will not cross contaminate but instead will leak to atmosphere giving the operator an indication that gaskets have failed.
Double-wall plates
Thermaline's double-wall plate technology provides the added security of an additional safety barrier. If a pinhole or crack develops in a plate, the fluid is forced to leak into the atmosphere rather than into the other fluid stream.
Product Range
Thermaline plate heat exchangers have a wide range from 0.23 ft² to 19.81 ft² per plate with nozzle sizes from 3⁄4" to 12/14". Our plate packs have varied chevron angles to allow the maximum turbulence and velocity for a given pressure drop. Our range of sizes and plate patterns permit the precise optimization of the heat exchanger to meet your process requirements.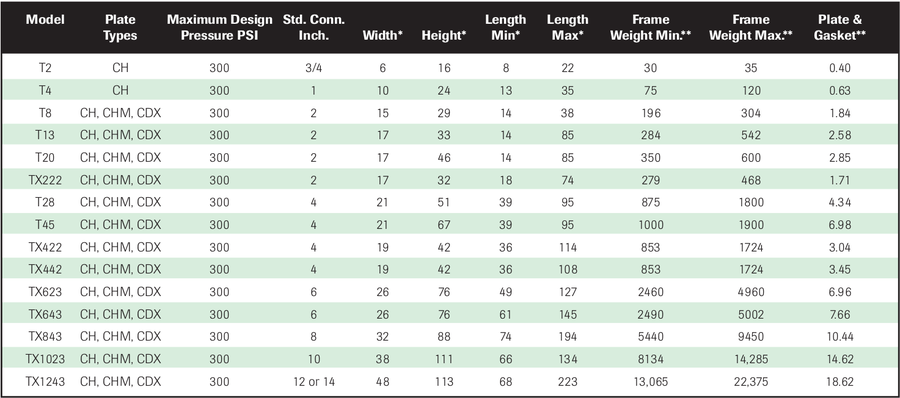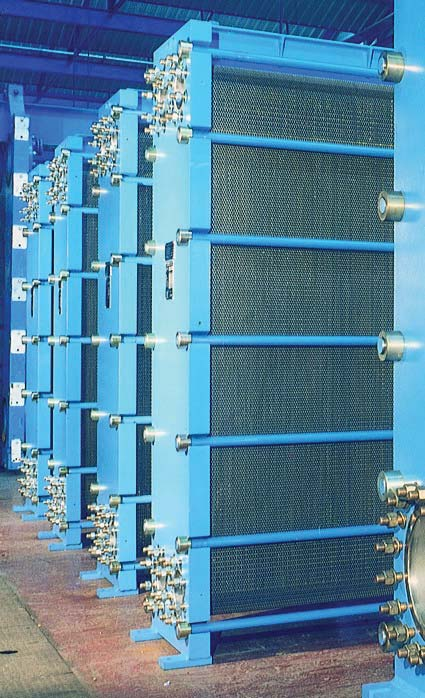 Safe operation and high-performance are the benchmarks of our industrial products. These Gasketed PHEs are cooling high-temperature chemical mixtures.
Benefits of Gasketed PHE
Low installation cost: Parallel and counter-current flow connections make installation easy, reducing costs for pipes and valves.
Easy Expansion: Versatile, bolted construction makes future expansion easy, simply by adding plates to increase heat transfer capacity.
Minimal downtime: High-quality materials and careful gasket and heat-transfer plate design provide effective protection from fouling, thus minimizing downtime.
Complete restoration of heat transfer: The heat-transfer area can be readily inspected by disassembling the plates. With suitable maintenance, 100% of performance can be recovered at low cost.
Low energy consumption: Close approach temperatures make it possible to reduce the flow rates needed for heating and cooling, which makes for lower pumping costs.
Readily recyclable materials: Materials used in construction are pure and thus easily recycled with the environmental benefits this ensures.
Low maintenance cost: Glue-free clip-on gaskets ensure fast, easy maintenance, with significant savings in labor costs.
Also available- Welded PHE

In addition to our Gasketed PHE line, Thermaline offers Free-Flow Welded Plate Heat Exchangers (WPHE). These units combine the efficiency of plate heat exchangers with the robustness and flexibility of shell and tube construction. Depending on process requirements and the nature of the fluids, the free flow gap can vary from 3mm to 30mm, making it the best available WPHE in the world for low- to high-fouling liquids. Easy access doors make it possible to clean the process side by hydroblasting, even without dismantling the connection pipe lines. 
Flexible length, width and number of heat transfer plates make this a truly custom-built solution. Large openings and connection possibilities make it ideal for condensing duties where the allowable pressure drop is low. 
Specifications

Standard plate materials
SS316, Titanium
Custom plate materials
SMO 254, Alloy C276, C22, Nickel 200
Standard gasket materials
Nitrile, EPDM
Custom gasket materials
Viton, Butyl, Silicone, Aflas