Thermaline Inc. is an innovative heat transfer solution provider for the food, beverage, and pharmaceutical industries. Processors worldwide have come to depend upon. Thermaline's quality product line, solid customer support, and practical industry knowledge to meet all of their heat transfer needs.
Thermaline's relentless pursuit of operational excellence is evident in every piece of equipment we manufacture. Our passion for this achievement ultimately gives our customers the competitive edge in their industry by providing intelligent, wellinformed, and energy-conscious decisions in the equipment they purchase.
Performance Guaranteed
Thermaline Inc. is dedicated to providing the customer with quality plate heat exchangers and systems that offer optimum performance. Each heat exchanger carries our trademark Performance Guarantee and is individually designed, certified, and tested prior to delivery.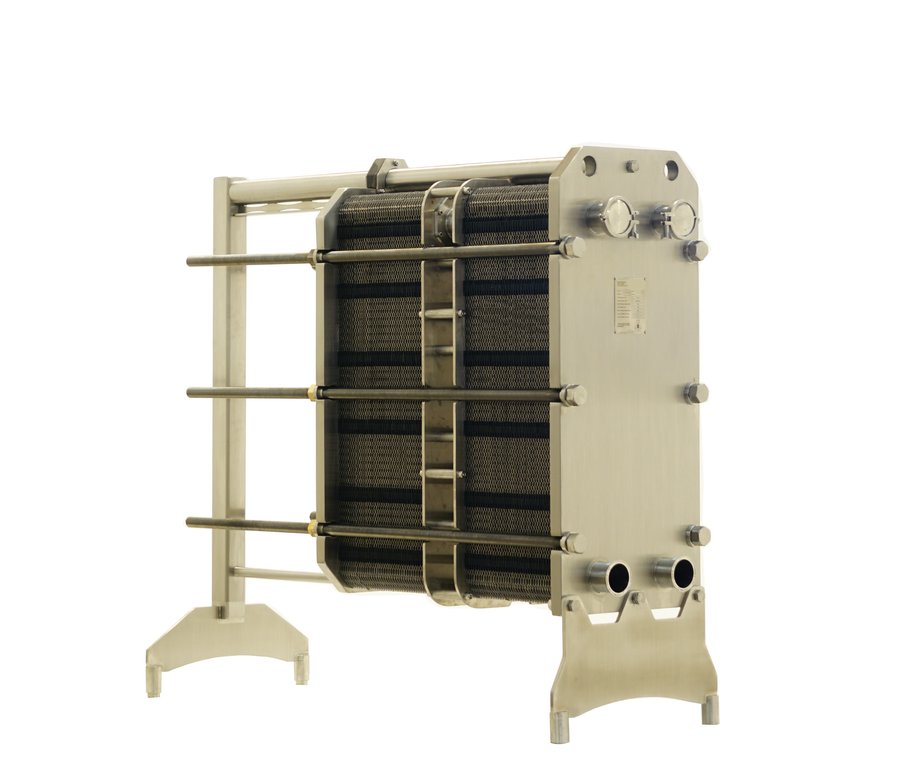 Thermaclip Sanitary Plate Line 
The Thermaclip series offers a comprehensive plate line that will accommodate today's most demanding processing requirements. Thermaclip plates range from fractional surface area plates for micro flow rates to plates with excess of 6 ft² and 6" ports for high volume, the Thermaclip plate line has a solution for any application. With multiple plate patterns, corrugations, draw depths, and materials, we can optimize each unit to operate at peak efficiency, lowering the cost of ownership, but more importantly providing long-term energy savings.
No fluid Cross Contamination Due to Gasket Failure
No fluid cross contamination due to gasket failure. Gaskets are designed with vent holes between port and boundary gasket. This ensures that in case of a leak occurring due to gasket failure, the fluids will not cross contaminate but instead will leak to atmosphere giving the operator an indication that gaskets have failed.
■ 3-A and FDA compliant
■ Adhesiveless clip gasket system
■ Hi Theta-, Lo Theta-, and Washboard-style corrugations
■ Optimized pressure drops and efficiency
■ Multi-section capable
■ Standard plate material is 316 stainless steel (other materials are available upon request)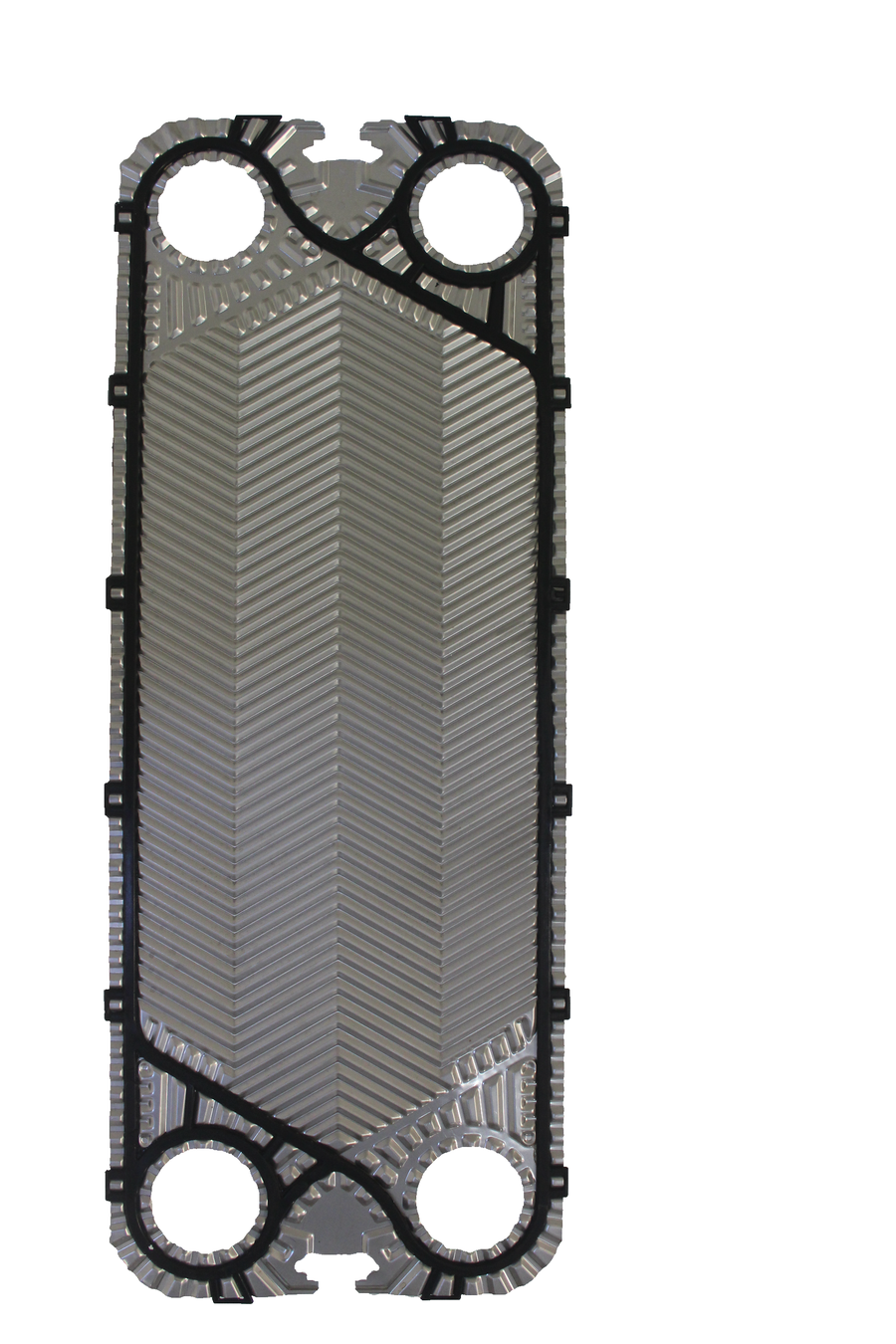 Sanitary Frames
Thermaline offers a durable tie-bolt style frame line with a focus on sanitary design, simplicity, and dependability. Most frames are precision machined from solid 300 series stainless steel. High pressure frames are carbon steel clad with 300 series stainless steel and seal welded. We also offer an economical epoxy-painted carbon steel option.
■ Available in PMO high port
■ 304 or 316 stainless steel product contact surfaces
■ Sanitary S-line, I-line, NPT, or flange connections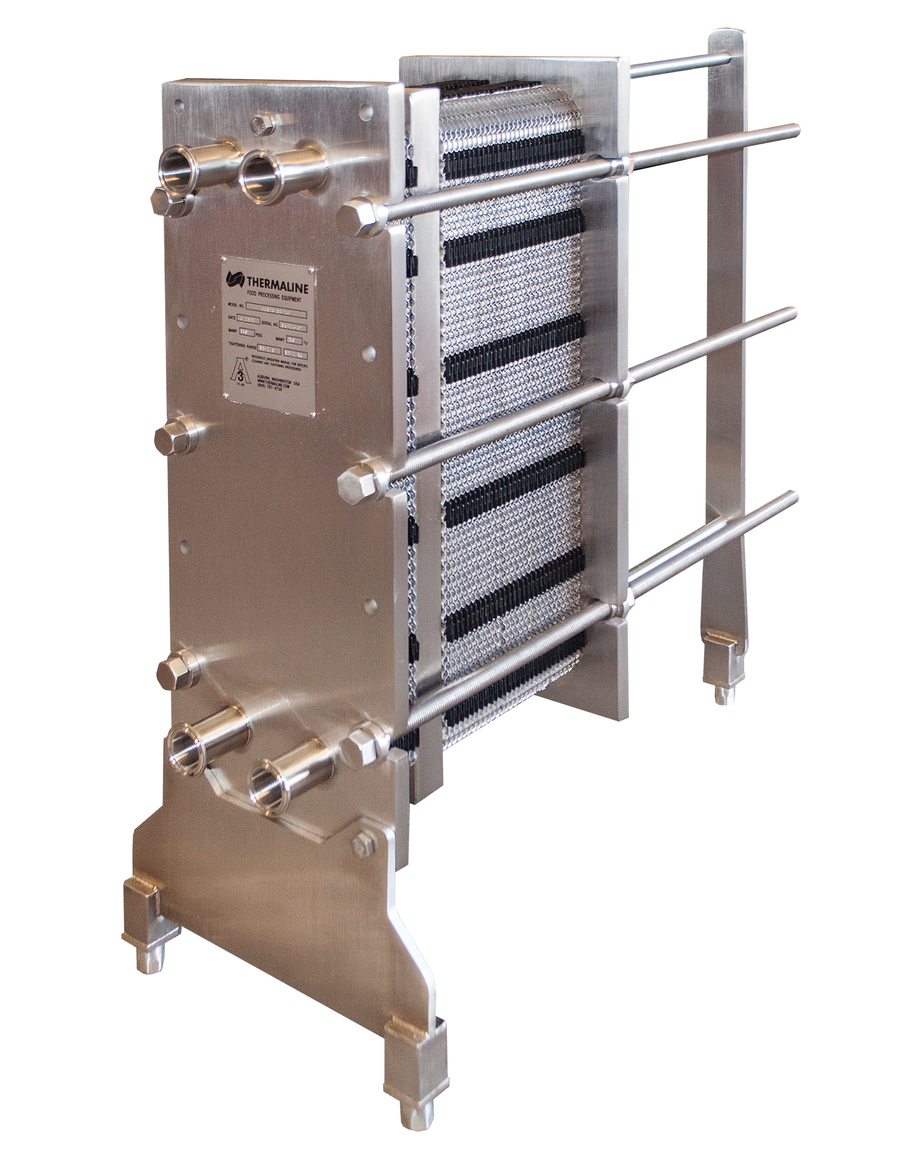 Automated Frames
Thermaline has unleashed the power of innovation and automation to make your processing days safer and easier. Thermaline's new EZ series frames set new standards in heat exchanger automation for tomorrow's food and beverage processors.
■ Fully-automated and semi-automated frames
■ Simple and dependable operation
■ Reduces downtime for cleaning and inspection
■ Promotes plant personnel safety
Upgrade your existing PHE frame to a New EZ Automated Frame
The EZ frame is sold separately to accommodate your existing plate pack. Thermaline can easily adapt semi- or fully-automated frames to fit the plate that you are currently using.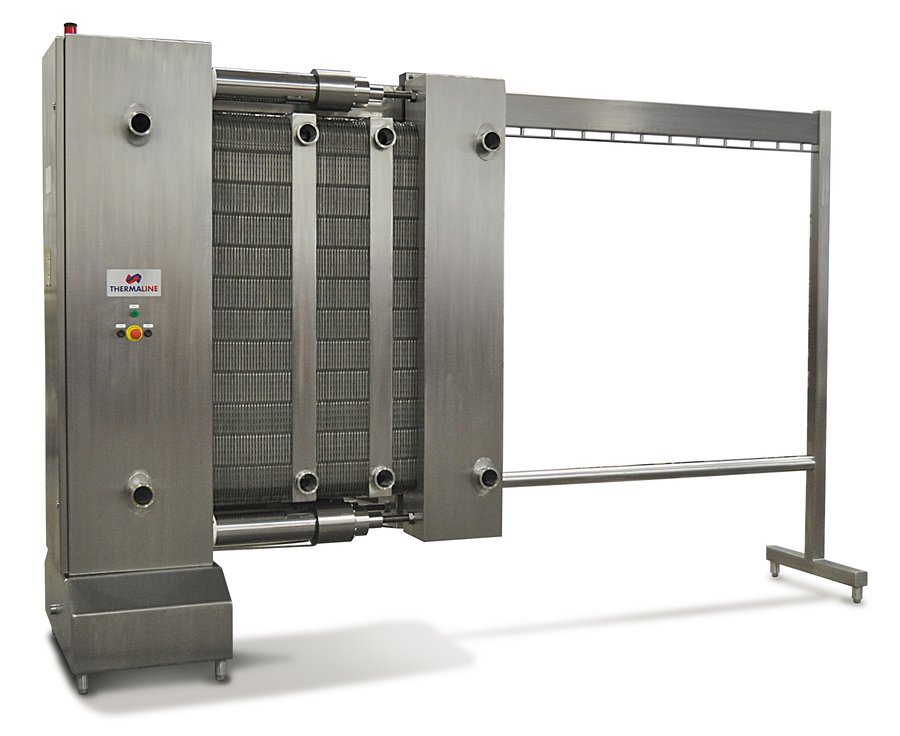 Double Wall Plates
Thermaline's double wall plate technology provides added security of an additional safety barrier. If a pinhole or crack develops in a plate, the fluid is forced to leak into the atmosphere rather than into the other fluid
stream.
■ Eliminates product and media intermixing
■ Leaks are vented externally, allowing the operator to quickly identify a problem
■ Laser-welded port area