High-quality, American-made units for all your processing needs
Sanitary Frames
Thermaline offers a durable tie-bolt style frame line with a focus on sanitary design, simplicity, and dependability. Most frames are precision machined from solid 300 series stainless steel. High pressure frames are carbon steel clad with 300 series stainless steel and seal welded. We also offer an economical epoxy-painted carbon steel option.

Available in PMO high port

304 or 316 stainless steel product contact surfaces

Sanitary S-line, I-line, NPT, or flange connections

Expert Engineering
Our engineers are dedicated to designing the perfect unit for your process. Submit a Request For Quote and we will contact you shortly with a detailed quote and specifications.
Glueless Gaskets
Thermaclip gaskets are designed to withstand the rigors of extended processing times and the harsh chemical wash of a CIP system. 
Our over-the-plate clip gasket system allows for easy field removal and replacement of the gasket. Heavy duty clips ensure the gasket stays in place during handling and assembly.
3-A and FDA compliant

Adhesize-free installation
Available in Nitrile, EPDM, and Viton

Operating temperatures up to 350°F

Thermaclip Plates
Thermaclip plates range from fractional surface area plates for micro flow rates to plates in excess of 6 ft² and 6" ports for high volume, the Thermaclip plate line has a solution for any application. With multiple plate patterns, corrugations, draw depths, and materials, we optimize each unit to operate at peak efficiency.
3-A and FDA compliant
Hi Theta, Lo Theta, and Washboard-style corrugations
Optimized for pressure drops and efficiency
304SS, 316SS, Titanium, and other construction materials available
Double-Wall plates
Thermaline's double-wall plate technology provides added security of an additional safety barrier. If a pinhole or crack develops in a plate, fluid is forced to leak into the atmosphere rather than into the other fluid stream.
Eliminates product and media intermixing

Laser-welded port areas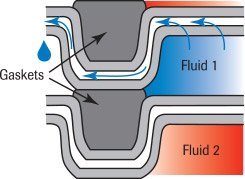 Tools and Support
We understand that your purchase is more than just a product; you expect service, support, and tools to keep your equipment from causing headaches. 
Thermaline offers testing, service, and reconditioning with both in-house and on-location services. 
For brewers, our BeerCalc allows you to instantly design, quote, and purchase a wort-cooler online in minutes.
Furthermore, our Rapid Deployment system means that all standard units ship within 5 business days. Contact us for further information
Specifications

Area per plate
0.25 ft² to 19.83 ft²
Foot styles
Ball, Tab, Universal Bracket, or foot-less
Gasket materials
NBR, EPDM, Viton
Head materials
Stainless-steel or carbon-steel
Max. plate capacity
Varies based on model, rail length, and number of grids on frame